Welcome to the Garrard's Horse and Hound website.  We have revamped our website, making easier for you (our valued customers) to locate products, information and contact us.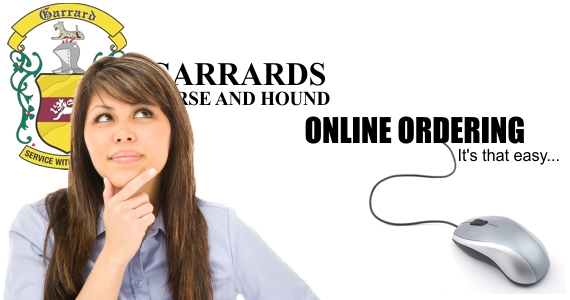 Ordering from Garrard's Horse and Hound just got even easier with our online shop.  Open 24/7 so you can browse through our extensive range of products even when our stores are closed.  Place an order online, over the phone, or in store; it's that easy, all the time, every time.
Don't have time to look around for the product in-store? Pre-order your products for an in-store pick-up and have our staff collect the products and package it up ready for pick-up.  Garrards looks to create a hassle-free experience for  all our valued customers.  There are many options through the online store including, payment via Direct Debit, Credit Card, and In-Store pickup for those whom just want to pre-organise their shopping cart.


1800  060 896
This email address is being protected from spambots. You need JavaScript enabled to view it.